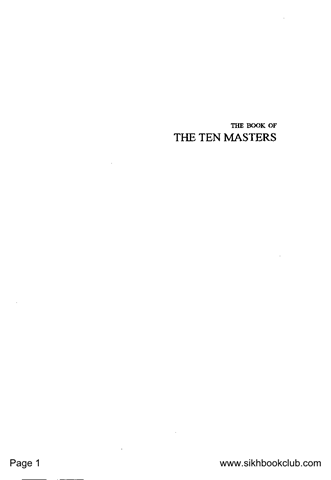 The Book of Ten Masters
Language : English
Total Download : 687
5
Share this Book.....
About Books
---
The Book ofthe Ten Masters is the record ofthe teachers of the Sikhs, who have handed on the mystic doctrine first taught by Guru Nanak in the sixteenth century. Nanak is ''the unknown man who roams disguised on earth.
About Author
---
Professor Puran Singh was a Punjabi poet, scientist and mystic. He composed three volumes of Punjabi Poetry : Khule Maidan , Khule Ghund and Khule Asmani Rang. His poetry was composed in free verse and explored the experience of villagers, peasants and the poor.Among his prose writing published works are The Book of Ten Masters,The Spirit Born People,Swami Rama in English and Khulle Lekh in Punjabi and Kanya Daan te hor Lekh in Hindi.