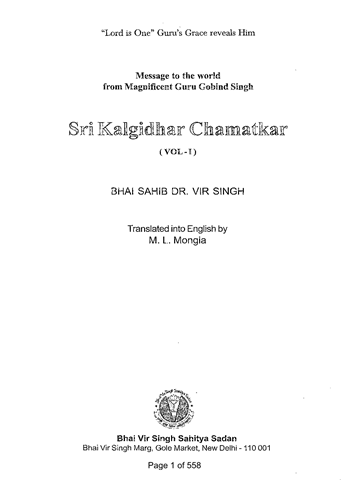 Sri Kalgidhar Chamatkar
Language : English
Total Download : 576
5.75
Share this Book.....
About Books
---
'Sri Kalgidhar Chamatkar' is based on the miraculous life of Guru Gobind Singh Ji who was also known as Kalgidhar. 'Kalgidhar' means the holder of the Kalgi (Plume) which is made up of feathers and have pearls studded to make it look beautiful. Once a woman devotee gifted Guru Gobind Singh a beautiful Kalgi. The Guru's mother, Mata Gujri attached it to his turban. The child looked so good that words of praise were the only thing in the air and everyone called him the lord of the Plume. Sri Kalgidhar Chamatkar brings forth the words and his message to the common man.
This book depicts the true words of Guru Gobind Singh who was the lord of the Plume for all his disciples and followers. The book efforts its way to make the readers understand that to recite the Lord's name amorously by the tongue is paying attention of the mind towards the Lord. The Lord is that the living non secular power. He has no form. It is by his name that we know him. The Guru has aforementioned that Name is that the non secular energy, Supreme knowledge, Divine love and Divine music.
"Let us recite: '0 Lord, 0 Lord, 0 Lord, 0 Lord'
'Waheguru, Waheguru, Waheguru, Waheguru'
Let us start with at least five minutes a day."
The super consciousness is an energy that's there in every creature we see. It is the outer mind in our body that feels the pleasures and pains and additionally has desires. Besides this is often the intellectual mind can't decide what's smart and what's bad however it cannot transcend. The intellectual mind will solely draw inferences from whatever thought engulfs our minds.
Guru Gobind Singh Ji says- Today! Once the sun has up high enough, what we tend to see is that a tall and thin person is sitting in meditation with eyes closed. At that very moment there is hardly any flesh on the body. He sounds like a refined bony figure but his meditative state is full of splendor with vigor and radiance. He has done intense meditation. His vision will rise higher than the sphere of your time and space, remains absorbed in thoughtlessness, whoever desires to immerse his body soul within the Supreme soul. The Supreme soul has first-bestowed grace on him so sent him from the unseen world to the visible world with some miraculous motive. The stones and mounts are all in meditation. That facet the musing soul is rising similar to water mixing with water from a different source. Here the soul meets with the supreme soul. The body soul will therefore reach the ultimate sphere of ecstasy, to an unseen world not explored.
The Lord ordained:
I am in you, you are in me. This is incessant meeting.
This meeting will ever remain. It shall never break.
I shall be your support in the world.
This and more shall be the guiding light for many readers who add 'Sri Kalgidhar Chamatkar' reading as part of their daily routine. The true words will thereby imbibe in us more courage, determination and absolute belief on the Providence above.
About Author
---
Bhai Vir Singh is regarded as the founder and creator of Punjabi Literature and was a revered writer and poet known for his spiritual literary work in particular. He was born into a Sikh traditional family on 5th December 1872 in Amritsar. His creative works involve the "Shri Guru Nanak Chamatkar" depicting the influence of Guru Nanak Devji in ordinary people's lives. He reoriented the Sikh faith and assimilated different modernizing influences and made it go in unity with the Sikh rich history and cultural heritage. His Literary geniuses include, Shri Guru Kalgidhar Chamatkar, Bijay Singh and Satwant Kaur. One can also look into his historical collections with books like Sri Guru Nanak Chamatkar and Sri Asht Guroo Chamatkar etc. His later contributions do not need any introduction as he wrote several books on Gurbani, the lives of the Sikh Gurus and other religious figures. He made an impression with books like Subhagji da Sudhar Hathin Baba Naudh Singh, popularly known as Baba Naudh Singh. His short poems include books like Dil Tarang (1920), Tarel Tupke (1921), Lahiran de Har (1921), Matak Hulare (1922), Bijlian de Har (1927) and Mere Sayian Jio (1953). This then showed the way and led to the emergence of Punjabi poetry. His creative work and poetry made him so popular that he was declared as Bhai, the brother of the Sikh order, very early in his career for his true contribution in spreading Sikhism.