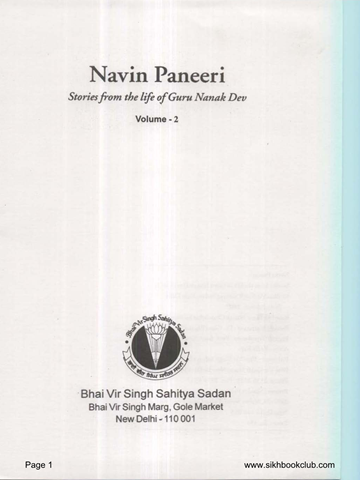 Navin Paniri Guru Nanak Dev Ji Part 2
Book ID : 185
Language : English
Total Download : 127
Share this Book.....
About Book
---
Naveen Paneeri Guru Nanak Devji Part 2 is the second part of the compilation, consisting of short stories of the reverend Guru depicting various episodes of the Guru's life and his teachings. Guru Nanak Dev sets out with fellow follower Bhai Mardana in his mission to spread spirituality to troubled souls. He reached Goindwal and started singly hymns related to praise of God the almighty. These hymns or songs were known as Kirtan. Wife of Chaudhry Meham came attracted to the hymns of the 'Kirtan' and she could feel the sensation of a bliss on prostrating before the Guru and touching the Guru's feet with her head. She offered food to both Guru Nanak Devji and Bhai Mardana.
Guru Nanak Dev started the practice of distributing Prasad after the religious Kirtans in the pious land of Amritsar every day. He even prophesied- "A time will come when hymns will be sung here from morning to evening and Prasad will be distributed all the day". This prophecy came to be true on that very place where the glorious and pious Golden Temple is situated where Prasad is still distributed after Kirtans.
Whether it was through his Kirtans (Musical gatherings and hymns of the Lord) or simply by relishing the simple food made by Bhai Lalo, the hard working carpenter, not a single person, follower and the ignorant who interacted with Guru Nanak Dev was left untouched by his divinity and spark. He used to lead the gathering of people in the Kirtan which took under a tree now called Dukh Bhanjni Ber which means The Ber tree mitigating all sorrows and grief from a person's life and acquire the ultimate blessing from Guru Nanak Dev Ji.
Navin Paneeri tells us about the journey of Guru Nanak Dev and his religious hymn songs and meditations under trees, on a heap of stone or on a sand dune. The various places where our respectful Guru used to sit is now marked by places of worship by millions of people in India and are getting international acclaim like 'The Harmandar Sahib' (Golden Temple) in Amritsar.
Our Guru once said to a wealthy administrator, Malik Bhago who was annoyed when Gururji didn't accept his invitation to attend a feast in his house. Guruji compared the loaf of bread of an untouchable with that of Malik Bhago which was fried in good quality oil. Drops of milk were squeezed out of the loaf that belonged to the untouchable unlike the one brought from Malik's house which oozed out blood. The guru said, "Money earned through dishonest means and exploitation is like blood and money earned through honest means is Pure milk. I cannot accept the food bought with such money. This is the reason for my declining your invitation".
Such was the personality of Guruji who could read minds and provide with Amrit to every hardened soul on earth and with whom he met. These and more stories make us acquainted to a divine mentor none other that Guru Nanak Dev who came to this world to enlightened both troubled and ignorant minds.
About Author
---
Bhai Vir Singh is regarded as the founder and creator of Punjabi Literature and was a revered writer and poet known for his spiritual literary work in particular. He was born into a Sikh traditional family on 5th December 1872 in Amritsar. His creative works involve the "Shri Guru Nanak Chamatkar" depicting the influence of Guru Nanak Devji in ordinary people's lives. He reoriented the Sikh faith and assimilated different modernizing influences and made it go in unity with the Sikh rich history and cultural heritage. His Literary geniuses include, Shri Guru Kalgidhar Chamatkar, Bijay Singh and Satwant Kaur. One can also look into his historical collections with books like Sri Guru Nanak Chamatkar and Sri Asht Guroo Chamatkar etc. His later contributions do not need any introduction as he wrote several books on Gurbani, the lives of the Sikh Gurus and other religious figures. He made an impression with books like Subhagji da Sudhar Hathin Baba Naudh Singh, popularly known as Baba Naudh Singh. His short poems include books like Dil Tarang (1920), Tarel Tupke (1921), Lahiran de Har (1921), Matak Hulare (1922), Bijlian de Har (1927) and Mere Sayian Jio (1953). This then showed the way and led to the emergence of Punjabi poetry. His creative work and poetry made him so popular that he was declared as Bhai, the brother of the Sikh order, very early in his career for his true contribution in spreading Sikhism.