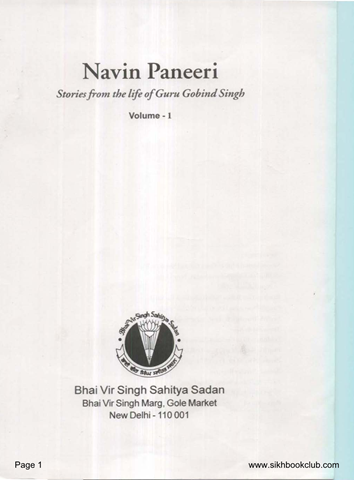 Navin Paniri Guru Gobind Singh Ji
Book ID : 188
Language : English
Total Download : 202
Share this Book.....
About Book
---
Navin Paneeri is a pictorial presentation depicting the pious and dedicated life of the Tenth Guru of the Sikhs, Guru Gobind Singh Ji. Known as Gobind Rai, he was born in 1666 A.D. at Patna. Guru Gobind Singh Ji was also known as the Tenth Nanak as he was the incarnation of Guru Nanak Dev and had his spirit within him. Guru Gobind Singh or Gobind Rai was the only son of Mata Gujri and Guru Teg Bahadur, the Ninth Guru.
Such was the power of the Guru, that wherever Guru Tegh Bahadur went, a gathering of worshippers of the religion and followers of the Guru would gather. In the chapter titled "The Saint and the Holy Child" readers get acquainted with the holy arrival of Guru Gobind Singh on earth and the premonition of Saint Bhikhan Singh while meditating in his own village. During meditation the saint saw a bright light and the image of a newborn to which he soon realized that there emerged a holy face sent by the lord. Saint Bikhan Singh was delighted when he met holy child Gobind Rai. He bowed in reverence for the child and touched his feet. The entire country was flooded with the news of the newborn holy child who would never cry but smiled at whosesoever addressed him.
He already knew swimming at the tender age of Three. No one ever taught him to swim but he still did it with ease. Guru Gobind Rai's uncle, Kirpal Chand was a witness to it and watched the child swim much to his amazement. "Gobind Rai learnt how to swim in the Heaven itself. He is destined to give deliverance to millions of people; no river has the capacity to drown him."
Guru Gobind Singh blessed a woman so that she begets a child. For the grace of the Guru and his blessings who was then just a child. In return of one boat he blessed the women, who later was a mother of five sons. This proved Guru Gobind Singh Ji's divine powers. He did merciful mischief to help a poor women so that his mother Mata Gujri would help her and give her money. Guru Gobind Singh was also known by the unique name Kalgidhar, the lord of the Plume. Donning it on his turban the guru went out to play in his childhood.
Other episodes as narrated is a retrospective of the belief that reciting Japji, the name of God you will finally see the guru or the lord as told to the two brothers Rahim Baksh and Karim Baksh. There are stories told while the holy family of Guru Gobind Singh travelled from Patna Sahib to settle finally in Anandpur Sahib Punjab.
Readers are made aware of how Gurudwars Sis Ganj and Rakab Ganj came into existence. Gurudwara Sis Ganj is situated in Delhi an Anandpur Sahib Punjab. Sis Ganj Delhi is the place where Guru Tegh Bahadur was martyred and Sis Ganj Anandpur is where the Guru's severed head was cremated. One of Guru Sahib's devout, Sikh Bhai Lakhi Shah Vanjara took the rest of the body in his cart and burnt his house to cremate it. This place is the same where Gurudwara Rakab Ganj is built.
About Author
---
Bhai Vir Singh is regarded as the founder and creator of Punjabi Literature and was a revered writer and poet known for his spiritual literary work in particular. He was born into a Sikh traditional family on 5th December 1872 in Amritsar. His creative works involve the "Shri Guru Nanak Chamatkar" depicting the influence of Guru Nanak Devji in ordinary people's lives. He reoriented the Sikh faith and assimilated different modernizing influences and made it go in unity with the Sikh rich history and cultural heritage. His Literary geniuses include, Shri Guru Kalgidhar Chamatkar, Bijay Singh and Satwant Kaur. One can also look into his historical collections with books like Sri Guru Nanak Chamatkar and Sri Asht Guroo Chamatkar etc. His later contributions do not need any introduction as he wrote several books on Gurbani, the lives of the Sikh Gurus and other religious figures. He made an impression with books like Subhagji da Sudhar Hathin Baba Naudh Singh, popularly known as Baba Naudh Singh. His short poems include books like Dil Tarang (1920), Tarel Tupke (1921), Lahiran de Har (1921), Matak Hulare (1922), Bijlian de Har (1927) and Mere Sayian Jio (1953). This then showed the way and led to the emergence of Punjabi poetry. His creative work and poetry made him so popular that he was declared as Bhai, the brother of the Sikh order, very early in his career for his true contribution in spreading Sikhism.