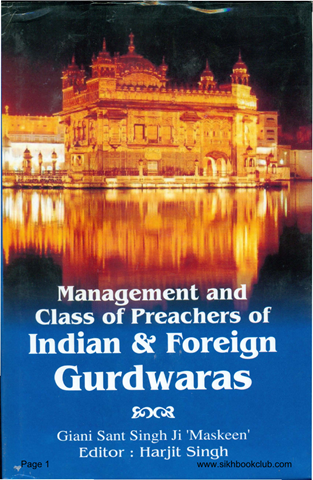 Management and Class of Preachers of Indian & Foreign Gurdwaras
Language : English
Total Download : 144
Share this Book.....
About Books
---
We are very well aware of the fact that things managed today in the name of God are entangled in the whirlpool of money. Giani Maskeen Ji the renowned writer of various Punjabi books made us aware of this invigorating fact and was confident that this work of his will encourage the English knowing Gursikhs. It was for those residing in India and abroad participating in Gurudwara's managements to come out of their money mindedness and eventually work for the betterment of the Gurudwaras and their community residing in foreign countries.
He went towards propagating the path leading to 'Satguru', the true lord, which will lead to the reformation of the Sikh religion in foreign countries. The preachers and the people who belong to the management of Gururdwaras were born and brought up and settled in adopting countries and are merely taking part and working actively towards the reformation of work or preaching their religion. This has led to the deserted look of the temples, mosques and Gurudwaras situated in foreign worlds.
Maskeenji was very well aware of how their places of worship and even churches in Europe stood deserted with few people of the congregation,  who actually took part in gatherings and spoke of God and their respective religions. Through this book of his, MaskeenJi brought forth the real meaning of preaching. He was of the opinion that the sky touching Gurudwaras was so low in preaching that we can hardly find any believers of God. This was so very ironical.
There is an account of the degenerating conditions as witnessed by Maskeen Ji himself. Sant Singhji explains the meaning of preaching which in Hindi is known as 'Parchaar'. "To manifest nice virtues and qualities of any person or thing to others is called preaching." The literal meaning of 'Chaar' is nice and of 'Par' is 'others'. These two words conjointly form the word 'Parchaar' which means preaching nice things to others and to fellow believers which they can relate to and follow consequently. The preaching of God and religion would encourage its believers to join as a congregation and take the divine message further to many ears. He therefore invites the spiritualists and mediators of God's Name to participate in the management of the Gurdwaras and take it further across the globe propagating the words of the lord and the Guru Granth Sahib.
About Author
---
Giani Sant Singh Ji Maskeen was born in 1934 at Pakistan to father Kartar Singh and mother Ram Kaur. He authored more than a dozen books. Some of his famous books includes Guru Chintan, Ras Dhara, Amrit Manthan, Ratnagar and Shabad Guru.He was given the title of Panth Ratan for his services to mankind through the message of Gurbani.