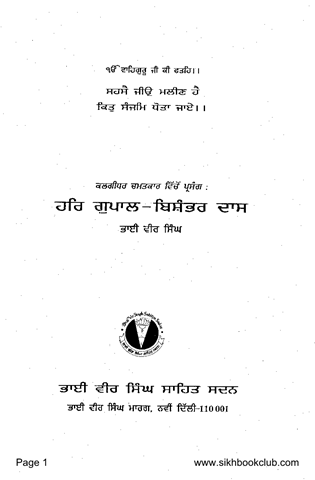 Har Gopal Bhishambar Das
Language : Punjabi
Total Download : 101
Share this Book.....
About Books
---
Extracted from the 2nd Volume of 'Sri Kalgidhar Chamatkar' which itself was a collection of short essays by Bhai Vir Singh elucidating Guru Gobind Singh's teachings, 'Har Gopal Bishambhar Das' was first published in the form of a tract in 1936. Keeping the form simple in accordance to the needs of a tract, the play is largely bracketed as a dual of questions and answers between a father and a son.
Bishambar Das, a wealthy trader and a devout follower of Guru Gobind Singh, got worried about his son, Har Gopal's tilt towards a Vaishnav saint, who he thought wasn't wise enough to bring his son on the true path of piety. The concerned father advised Har Gopal to seek the blessings of Guru Gobind Singh, thus setting him on a coming of age journey toward spiritual awakening.
Seeing the opulence and the grandeur of Guru Gobind Singh's abode, Har Gopal initially became skeptical of the Guru's authenticity as a 'Godly' man. He could not understand why a Saint needs an army to fight battles, or palace to live in! Har Gopal thus comes to represent a man of this materialistic world, lost in a maze of fuzzy concepts of religion and spirituality taught by innumerous self-appointed 'God-Men'.
Masterfully crafted by Bhai Vir Singh, this play is a great remark in times like these, where choosing a truly righteous Guru and guide becomes of paramount importance. The battles between 'Himsa-Ahimsa', 'opulence and renunciation' get settled, and the readers find their notions of what comprises of godly virtues being challenged, as Guru Gobind Singh goes on trashing one religious dogma after another with a smile. A must read for the progressive thinkers. Savor it at sikhbookclub.com
About Author
---
Bhai Vir Singh is regarded as the founder and creator of Punjabi Literature and was a revered writer and poet known for his spiritual literary work in particular. He was born into a Sikh traditional family on 5th December 1872 in Amritsar. His creative works involve the "Shri Guru Nanak Chamatkar" depicting the influence of Guru Nanak Devji in ordinary people's lives. He reoriented the Sikh faith and assimilated different modernizing influences and made it go in unity with the Sikh rich history and cultural heritage. His Literary geniuses include, Shri Guru Kalgidhar Chamatkar, Bijay Singh and Satwant Kaur. One can also look into his historical collections with books like Sri Guru Nanak Chamatkar and Sri Asht Guroo Chamatkar etc. His later contributions do not need any introduction as he wrote several books on Gurbani, the lives of the Sikh Gurus and other religious figures. He made an impression with books like Subhagji da Sudhar Hathin Baba Naudh Singh, popularly known as Baba Naudh Singh. His short poems include books like Dil Tarang (1920), Tarel Tupke (1921), Lahiran de Har (1921), Matak Hulare (1922), Bijlian de Har (1927) and Mere Sayian Jio (1953). This then showed the way and led to the emergence of Punjabi poetry. His creative work and poetry made him so popular that he was declared as Bhai, the brother of the Sikh order, very early in his career for his true contribution in spreading Sikhism.