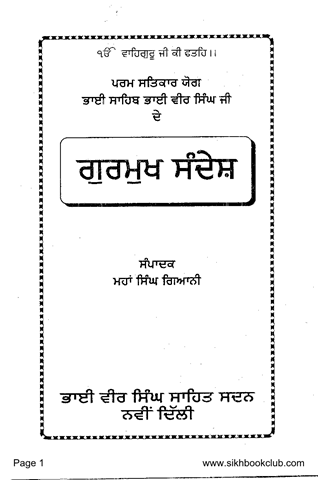 Gurmukh Sandesh
Book ID : 1859
Language : Punjabi
Total Download : 310
Share this Book.....
About Book
---
Gurmukh Sandeshwas written by Vir Singh and its new edition published in 1993. The 'Gurmukh' is the face of the Guru and Sandesh means message. This book has Essays on principles & ideology of Gursikhi. Editor Gyani Maha Singh found some letters of Bhai Vir Singh which Bhai Sahib wrote to the society to give his message. These letters were message to people and women about Gurshikhi. Bhai Vir Singh Ji presents, how a Gurmukh should lead his life. He explains and gently inspires us to weave Waheguru's name (Naam) into our lives. Bhai Sahib's soft and loving words guide the listener to attain the spiritual heights that Guru Nanak Sahib had envisioned for Sikhs.
Bhai Vir Singh said, "Gurmat postulates religion within the teachings of Gurbani. The book explains that the perception of the divine will as the supreme law and honest performance of one's duties as a householder is an essential obligation. The primary act instructed is prayer—prayer within the variety of recitation of Gurbani by any individual. Bhai Sahib said, "The Sikhs admitted that a 'Sangat' may lead any of the services.
"Patitt Ubar" is a letter given in the book Gurmukh Sandesh written by Bhai Vir Singh to a boy of Sikh religion who was in abroad. Bhai Vir Singh sends a letter and photo to his parents. In the picture the boy had cut his hair simply because he needed a change. Cutting hair for a Sikh boy was against his religion but still he did it. His parents went to meet Bhai Vir Singh's in his house and requested him to communicate with his Son and teach him the importance of wearing the Sikh religious turban (Pugh). They knew that Bhai Vir Singh has improved lives of many and wanted Bhai Sahib to take charge of their son to teach him good habits and not to go modern keeping his religion at stake. On their request Bhai Vir Singh wrote a letter to the boy and told the importance of hair and the Sikh Turban. He gave examples of how Guru Gobind Singh created "Khalsa" ideals and gave a new identity to the Sikhs who considered the Turban as their Pride and this made them ideal men throughout the world. He also gave examples of "Bhai Taru" who accepted to get his head chopped off in place of his hair.
About Author
---
Bhai Vir Singh is regarded as the founder and creator of Punjabi Literature and was a revered writer and poet known for his spiritual literary work in particular. He was born into a Sikh traditional family on 5th December 1872 in Amritsar. His creative works involve the "Shri Guru Nanak Chamatkar" depicting the influence of Guru Nanak Devji in ordinary people's lives. He reoriented the Sikh faith and assimilated different modernizing influences and made it go in unity with the Sikh rich history and cultural heritage. His Literary geniuses include, Shri Guru Kalgidhar Chamatkar, Bijay Singh and Satwant Kaur. One can also look into his historical collections with books like Sri Guru Nanak Chamatkar and Sri Asht Guroo Chamatkar etc. His later contributions do not need any introduction as he wrote several books on Gurbani, the lives of the Sikh Gurus and other religious figures. He made an impression with books like Subhagji da Sudhar Hathin Baba Naudh Singh, popularly known as Baba Naudh Singh. His short poems include books like Dil Tarang (1920), Tarel Tupke (1921), Lahiran de Har (1921), Matak Hulare (1922), Bijlian de Har (1927) and Mere Sayian Jio (1953). This then showed the way and led to the emergence of Punjabi poetry. His creative work and poetry made him so popular that he was declared as Bhai, the brother of the Sikh order, very early in his career for his true contribution in spreading Sikhism.