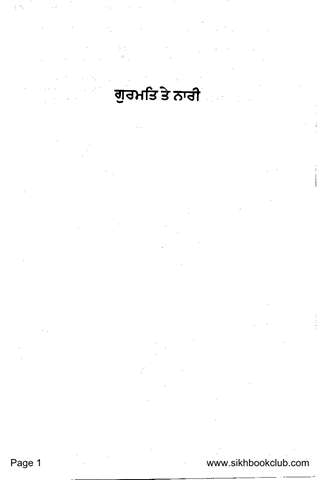 Gurmat Te Nari
Book ID : 1858
Language : Punjabi
Total Download : 184
Share this Book.....
About Book
---
'Gurmat Te Nari' was authored by Mahinder Kaur Gill and published by Bhai Vir Singh Sahitya Sadan. This book is a critical essay on women's status in Sikh religion according to Gurmat philosophy. Dr Mahinder Kaur wants to give messages to the women of the society. She was greatly inspired by the work of Bhai Vir Singh and therefore wrote this book based on the values inculcated by Bhai Vir Singh. In Gurmat, the status of women is to be regarded as equal to men. They are allowed to lead the religious congregation and participate in all religious, cultural, social and secular activities. According to Gurmat, men and women are two sides of the same coin.
In Gurbani, Guru Nanak Dev Ji has also elevated the position of women by spreading this message that women play the main role in a man's life because a man is incomplete without a woman in his life, right from his birth till death. The Sufi saints used to think women as inferior with less reference of them in their Sufi poems and considered them as mere elements of distraction to ruin their worship. 'Gurmat Te Nari' rejects this theory of the Sufi's and regard women as the greatest strength for men.
In the Punjabi poetry, in Purtan time 'Pillu', Waris Shah concentrated on a woman's character only and not her true being and purpose in this world. Bhai Vir Singh and other poets of his time contributed a great deal to Punjabi literature and constantly stressed on respecting a woman. They regarded woman and men as two wheels of a vehicle and that vehicle is known as life. Dr Mahinder Kaur clearly defines in her work that, "If a man can love his daughter, mother and sister, then why not his wife.