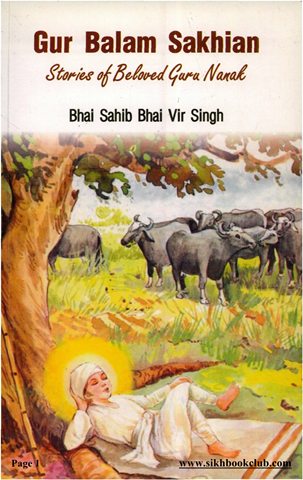 Gur Balam Sakhian Guru Nanak Dev Ji
Language : English
Total Download : 350
Share this Book.....
About Books
---
Gur Balam Sakhain is a compilation of short stories of beloved Guru Nanak Dev. This book was authored by Bhai Vir Singh in Punjabi and got its words in English and was translated by M.L Mongia and was published at Bhai Vir Singh Sahitya Sadan. The book is now introduced to its online readers in the form of an e-book which is available for free download. This e-book 'Gur Balam Sakhain-Guru Nanak Dev Ji' depicts the life of Guru Nanak Dev, the first of the ten Sikh Gurus. He founded Sikhism bedecked with the Khalsa principles leading to righteousness and the supreme sacrifice of Sikh Gurus and Panths for religion at any cost with no fear of loosing their precious life.
Bhai Vir Singh's writings had the essence of our Lord Guru Nanak Dev and even mentioned about the incessant remembrance of the lord and feeling the sensation which was unstoppable in this work of his and urged fellow people of faith to cling on to the belief that the 'Intuitive mind is developed by the Recitation of the Lord's name with love'. This book which is reaching to various cross sections of the society was thankfully translated to English and inputs to the translated work were given by Mrs. Jasjit Man Singh and S. Kuljeet Singh. The e-books holds chapters in Guru's life narrated in a concise form to cover most of the aspects and teachings of Guru Nanak Dev Ji. The book preaches thoughts like- "Those who have the Lord living in their heart, they only are pure and possess true wealth."
"The Lord sent him to educate the people to do good deeds. ,to teach the people to love each other and most importantly to love the Lord." As described in the book with true reference to Guru Nanak Dev. Gur Balam Sakhian-Guru Nanak Dev has stories on the Guru's home, his childhood charitableness, Guru meeting the lord, giving off his household utilities to help the needy and many other things which will bring us more closer to Guru Nanak Devji and help us connect with his values and teachings.
About Author
---
Bhai Vir Singh is regarded as the founder and creator of Punjabi Literature and was a revered writer and poet known for his spiritual literary work in particular. He was born into a Sikh traditional family on 5th December 1872 in Amritsar. His creative works involve the "Shri Guru Nanak Chamatkar" depicting the influence of Guru Nanak Devji in ordinary people's lives. He reoriented the Sikh faith and assimilated different modernizing influences and made it go in unity with the Sikh rich history and cultural heritage. His Literary geniuses include, Shri Guru Kalgidhar Chamatkar, Bijay Singh and Satwant Kaur. One can also look into his historical collections with books like Sri Guru Nanak Chamatkar and Sri Asht Guroo Chamatkar etc. His later contributions do not need any introduction as he wrote several books on Gurbani, the lives of the Sikh Gurus and other religious figures. He made an impression with books like Subhagji da Sudhar Hathin Baba Naudh Singh, popularly known as Baba Naudh Singh. His short poems include books like Dil Tarang (1920), Tarel Tupke (1921), Lahiran de Har (1921), Matak Hulare (1922), Bijlian de Har (1927) and Mere Sayian Jio (1953). This then showed the way and led to the emergence of Punjabi poetry. His creative work and poetry made him so popular that he was declared as Bhai, the brother of the Sikh order, very early in his career for his true contribution in spreading Sikhism.
Review
---
Unable to download please help

By Vikramjeeth Singh on 3/21/2018

Unable to download please help

By Vikramjeeth Singh on 3/21/2018