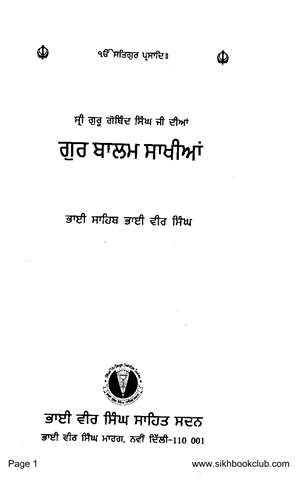 Gur Balam Sakhian Guru Gobind Singh Ji
Language : Punjabi
Total Download : 550
Share this Book.....
About Books
---
'Gur Balam Sakhain' Guru Gobind Singh is about the Tenth Master Gobind Singh Ji. The books narrates the life of Guru Gobind Singh and short stories from his life and concerning people, interacting with Guru Gobind Singh ji. The book is about the goodness that the Guru possessed in his teaching to the world. Padam Bhushan Bhai Sahib Dr. Vir Singh was a saint who had the pearls, gems, rubies and jewels in his mind. He has put all these pearls, gems, rubies and jewels in his writings. These were the principles preached by Bhai Vir Singh  Ji about Sikh Gurus.
Bhai Sahib Bhai Vir Singh always used to ask everyone who came to meet him to recite the Lord's name for at least five minutes a day. Once, a doctor from America came to meet him. When he was about to leave, Bhai Sahib told him to recite the Lord's name for five minutes at least every day. The doctor said, this is impossible. I work so hard that I do not have even five minutes to spare. Then Bhai Sahib asked him: How far from your house is your Hospital where you go to work? The doctor replied: It is about one hour's drive from  my residence.  Bhai Sahib said: Can you not recite the Lord's name in that time? The doctor was amazed.. I promise to recite god names while going home and full one hour while going to my clinic.
The Author also tells us about the aim of Guru Nanak Dev to cae in this world to spread love in an era which was so ignorant of this eternal love that could only be realized by constant chants of the lord. Guru Nanak Dev has said- 'Remembrance is life. Forgetfulness is lifeless.' The beginning of the books narrates the birth of Guru Gobind Singh, the tenth Guru who was born in Patna. There are lots of  other episodes of  His vital holy life worth reading in this book.
About Author
---
Bhai Vir Singh is regarded as the founder and creator of Punjabi Literature and was a revered writer and poet known for his spiritual literary work in particular. He was born into a Sikh traditional family on 5th December 1872 in Amritsar. His creative works involve the "Shri Guru Nanak Chamatkar" depicting the influence of Guru Nanak Devji in ordinary people's lives. He reoriented the Sikh faith and assimilated different modernizing influences and made it go in unity with the Sikh rich history and cultural heritage. His Literary geniuses include, Shri Guru Kalgidhar Chamatkar, Bijay Singh and Satwant Kaur. One can also look into his historical collections with books like Sri Guru Nanak Chamatkar and Sri Asht Guroo Chamatkar etc. His later contributions do not need any introduction as he wrote several books on Gurbani, the lives of the Sikh Gurus and other religious figures. He made an impression with books like Subhagji da Sudhar Hathin Baba Naudh Singh, popularly known as Baba Naudh Singh. His short poems include books like Dil Tarang (1920), Tarel Tupke (1921), Lahiran de Har (1921), Matak Hulare (1922), Bijlian de Har (1927) and Mere Sayian Jio (1953). This then showed the way and led to the emergence of Punjabi poetry. His creative work and poetry made him so popular that he was declared as Bhai, the brother of the Sikh order, very early in his career for his true contribution in spreading Sikhism.