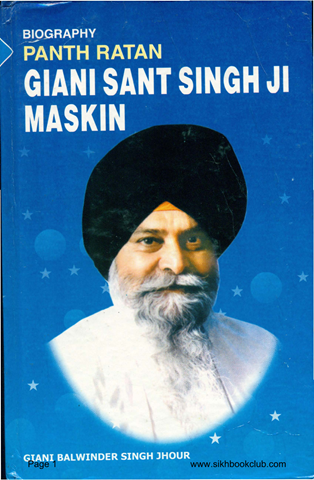 Giani Sant Singh Ji Maskeen Biography
Language : English
Total Download : 288
2.85
Share this Book.....
About Books
---
Gaini Sant Singhji Maskeen Biography gives us glimpses of his noble life led for a noble cause. An American Gursikh Lady who remains anonymous has translated it from Punjabi language in order to make it available to those living in foreign countries. Giani Sant Singh Maskeen (1934-18 February 2005) was born in 1934 in an area referred to as Lake Marwat in District Bannu nowadays a part of Pakistan. His daily discourses of Guru Granth Sahib on National TV network were telecasted worldwide and were keenly followed by several thousands of Sikhs. His words provided solace and stirred several wavering minds.
He preached:-
The finest word is 'WAHEGURU'
The best poem is 'SHABAD'
The world's perfect encyclopedia is Adi Guru Granth Sahib.
The world's best exercise is 'SIMRAN'
May God enlighten you to the path of harmony shown by Him.
This biography is available in the form of a PDF file downloadable free of cost only at sikhbookclub.com