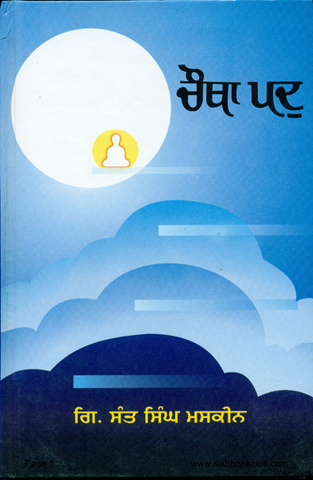 Chautha Pad
Language : Punjabi
Total Download : 531
Share this Book.....
About Books
---
'Chautha Pad' was written by Giani Sant Singh Maskeen who is known as a  "Panth Ratan". This book was published in 1991. Bhai Maskeen Ji wrote twenty seven essays in this book and explained all essays according to Gurbani. The aim of the publication was to make people understand the views of Gurmat. The compilation includes articles like Kam (lust), Krodh (anger), Moh (attachment), Lobh (Greed), Ahkar (ego) etc.
Bhai Sahib describes the word "Kam" (from Sanskrit karma) which means deep need, uncontrolled desire, physical attraction, sexual desire which is counted among the five cardinal sins or sinful properties in religious belief. Maskeen Ji said the same about "Krodh", (anger) which is one of the four rivers of fire. "Lobh" is a Gurmukhi word that interpreted in English as greed; it's a powerful desire for worldly belongings and a relentless specialize in possessing material things, particularly the urge to possess what truly belongs to others. Bhai Maskeen tells concerning "Moh" usually suggests that love of and attachment to worldly things and relations. In Sikh Scripture, the term Moh happens as well as Maya (money) as Maya-Moh understood each as infatuation for or clinging to the unreal world of the senses and as illusion of worldly love and attachment.
The next essay is about  "ego", It gives an individual the feeling that he is superior to others and therefore they are at a lower level than he is. It leads to envy, feelings of enmity, and restlessness amongst people. Bhai Maskeen also describes about the five elements of Sikhs. The"five K's (Punjabi: Pañj Kakar) is five Articles of Faith that Khalsa Sikhs wear at all times as commanded by the tenth Sikh Guru, Guru Gobind Singh who therefore  ordered it at the Vaiskhi Amrit Sanskar in 1699. The Five Ks are not just symbols, but articles of faith that collectively form the external identity and the Khalsa devotee's commitment to the Sikh Rehni "Sikh way of life". Chautha Pad, therefore describes the Gurmat principals.
About Author
---
Giani Sant Singh Ji Maskeen was born in 1934 at Pakistan to father Kartar Singh and mother Ram Kaur. He authored more than a dozen books. Some of his famous books includes Guru Chintan, Ras Dhara, Amrit Manthan, Ratnagar and Shabad Guru.He was given the title of Panth Ratan for his services to mankind through the message of Gurbani.