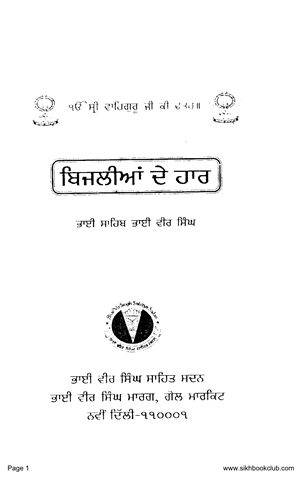 Bijliya De Haar
Language : Punjabi
Total Download : 249
Share this Book.....
About Books
---
'Bijliya de Haar' is a great poetry book representing the historical and religious events. This book came out in 1927 and was written by Bhai Vir Singh. 'Bijliya De Haar' means a different thought Bhai Vir Singh wrote his thought and philosophical views in this book in the form of short and long poetry. Bhai Sahib wrote many Poetry In this book like "Aaj", "Sama", "Gulab Da Full", "Dola Rush Ke Na Ja ", "Harmandir Sahib" Etc.. In Poem "Aaj", Bhai Sahib narrates the importance of the present i.e "Aaj" addressing to people that, "Why waste time on past and future's tensions and worries? People should care for their today and worship the God.
In the second poem "Sama"(time), Bhai Sahib described the significance of time because time goes by at its own pace and no person can stop time and if time has gone, then it never comes back. Poem "Gulab DA Full"(Rose flower) is an autobiography of a Rose flower which says all about the life of a rose flower, which grows on the lap of earth and nature, is nurtured, nourished and grown into a flower providing fragrance to all people, softness in its touch and beauty of its color.
There are poems that lead us to the philosophical path that the Guru believed in. The next poem "Atak" is about a river. 'Atak' is a river name and it means 'stop'. Bhai Sahib put the question to the river, your name is "Atak" (Stop) but I never see you stop? Then the river replies, "Stopping is not my work and stop means going dead. I do my work when I move and see the entire world." The poem depicts Bhai Sahib's view to keep moving and witness the greatness of the world and all that lies within it.
About Author
---
Bhai Vir Singh is regarded as the founder and creator of Punjabi Literature and was a revered writer and poet known for his spiritual literary work in particular. He was born into a Sikh traditional family on 5th December 1872 in Amritsar. His creative works involve the "Shri Guru Nanak Chamatkar" depicting the influence of Guru Nanak Devji in ordinary people's lives. He reoriented the Sikh faith and assimilated different modernizing influences and made it go in unity with the Sikh rich history and cultural heritage. His Literary geniuses include, Shri Guru Kalgidhar Chamatkar, Bijay Singh and Satwant Kaur. One can also look into his historical collections with books like Sri Guru Nanak Chamatkar and Sri Asht Guroo Chamatkar etc. His later contributions do not need any introduction as he wrote several books on Gurbani, the lives of the Sikh Gurus and other religious figures. He made an impression with books like Subhagji da Sudhar Hathin Baba Naudh Singh, popularly known as Baba Naudh Singh. His short poems include books like Dil Tarang (1920), Tarel Tupke (1921), Lahiran de Har (1921), Matak Hulare (1922), Bijlian de Har (1927) and Mere Sayian Jio (1953). This then showed the way and led to the emergence of Punjabi poetry. His creative work and poetry made him so popular that he was declared as Bhai, the brother of the Sikh order, very early in his career for his true contribution in spreading Sikhism.