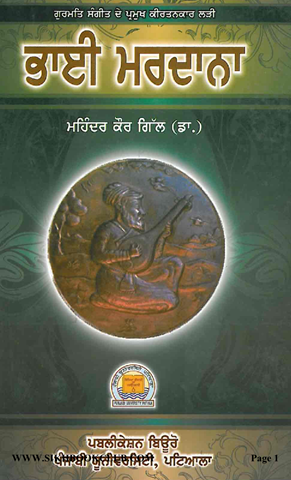 Bhai Mardana
Book ID : 888
Language : Punjabi
Total Download : 758
Share this Book.....
About Book
---
'Bhai Mardana' was the first disciple and long life companion of Guru Nanak Dev Ji. With all the wit and humor of the Punjabi minstrel , Mardana became a poet and philosopher in the Guru's company. He was a Muslim by birth and belonged to a lower caste. In this book, Bhai Vir Singh said that the present time is full of negative aspects like greed, anger, sexual feeling, lustful attraction and ego. One must come out of it and help in building a society which is free from these types of evils and he stressed that people should walk on that path which Guru Nanak DevJi showed to Mardana. Mardana is an example of these day's people because he was an ordinary person always struggled hard for the reformation of the people.
When Guru Nanak Dev Ji prepared to go forth into the world to preach his message, he invited Mardana to accompany him. They both went to many places like Mecca, Medina, Baghdad, Sayyidpur, Sialkot, Dhaka (capital of Bangladesh), Delhi and Punjab. Many incidents happened when they preached their message. Most of the events were linked to Mardana's  desire for food for example they had traveled very far from Sultanpur where Mardana felt hungry and needed something to eat immediately. GuruJi pointed to the village they had passed and said that if he went there, he would be well entertained by Khatris of the 'Uppal' caste who lived in that village. When he arrived in that village, he found everyone more than hospitable. He was well fed there and on coming back Guru Nanak DevJi saw him loaded with bundles of things like clothes and jewelry that the Villagers gave him. Guruji laughed at him and asked a simple question of why he brought those things. To this Mardana realized the oddity of what he had done, he threw the bundle away and just concentrated on the task of spreading their message and 'Guru ki bani', the guru's saying to all and how a disciple should have love for his Guru (Mentor), who always aims to work for the betterment of his disciples.