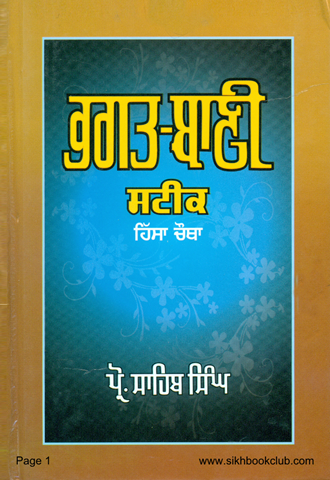 Bhagat Bani Steek Part 4
Language : Punjabi
Total Download : 577
Share this Book.....
About Books
---
As the title itself suggests, Bhagat Bani Steek is a work in which Prof. Sahib Singh interprets the Bani (hymns) of the Guru Bhagat (followers) gracing Guru Granth Sahib. This fourth volume of the five part series is dedicated solely to the Bani of Bhagat Kabeer ji, who was a revered saint across religions, thus truly epitomizing the inclusive character of the Adi Granth, wherein Bani of 13 Bhagat, apart from that of the 6 gurus, find presence.
Bhagat Kabeer has expressed himself in 17 Ragas, and this book contains the interpretations of Bani in Sri Raag, and Raag Gaudi. But more importantly, Prof. Sahib Singh has captured the essence of Kabeer's religious philosophy, which always stood in opposition to the dogmatic religion as was practiced in the society in those times.
About Author
---
Professor Sahib Singh  was a Sikh academic who made a contribution to Sikh literature. He was a grammarian ,author,scholar and theologian.Prof.Sahib Singh wrote extensively in Punjabi,but most of his works have now been translated into other prominent languages,His Literary works include Savaiye Sri Mukhvak Maihla 5 ate Bhatta De Savaiye Steek (1930),Jap Ji Sahib Steek (1931) ,Asa Di Vaar Steek (1933),Sukhmani Sahib Steek (1939),Guru Granth Darpan.