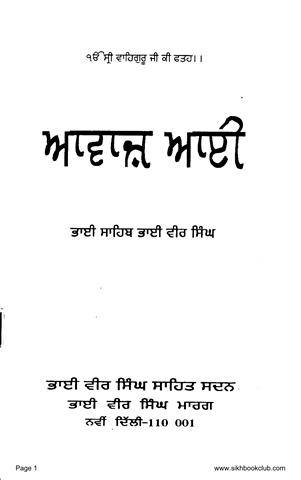 Awaaz Aai
Language : Punjabi
Total Download : 771
5
Share this Book.....
About Books
---
Aawaz Aai is a diverse collection of poetries that has been compiled into a book by renowned poet and prose writer, Bhai Vir Singh. This is Bhai Vir Singh's unpublished poem book, which was later published by Delhi Sahitya Sadan in 1998. In those days, these poems were published in the newspaper 'Khalsa Samachar' (News). These poems are in the 'Gajal' form about Sikh Philosophy. In this book Bhai Sahib wrote poems on the different topics like 'Bari Tarke', 'Dukh Sukh', 'Fakira', 'Ardas'', Is Duniya Mein Kon Hamara' etc..
'Ardas' is a Sikh prayer which is usually always done standing up with folded hands. In this poem Bhai Sahib told the story of a sad woman who always prayed to God and wanted to meet him. The second poem was about Dukh Sukh (happiness and sadness). Poet said to god I am tolerating many sufferings and God Said, 'Bear it'. But the poet said it's difficult to bear but still God said, "No in spite of the difficulties, bear it". The poet cried but God insisted that if you always pray, then you will forget all the pains and suffering in this world and will be happy as always.
'Giaka Nu' is dedicated to singers. Bhai Vir Sahib said, "A singer always sings a song for the people. When people hear the song they feel happy but singer feels unhappy because when he sings a song his lips become dry. But they do his work for people's happiness." This is the reason the poet praises the singers. The next poem name is 'Maja' (taste, desire and happiness). When poem starts Bhai Vir Singh narrates that without a lover everything is meaningless because his lover is a soldier who goes to protect his country against its enemies and therefore is set at the time of war. Every home is in danger in the war so all people's life is not worth living because all communities fight with other communities. In the last stanza the poet said if people avoid problems they could live a comfortable life.
About Author
---
Bhai Vir Singh is regarded as the founder and creator of Punjabi Literature and was a revered writer and poet known for his spiritual literary work in particular. He was born into a Sikh traditional family on 5th December 1872 in Amritsar. His creative works involve the "Shri Guru Nanak Chamatkar" depicting the influence of Guru Nanak Devji in ordinary people's lives. He reoriented the Sikh faith and assimilated different modernizing influences and made it go in unity with the Sikh rich history and cultural heritage. His Literary geniuses include, Shri Guru Kalgidhar Chamatkar, Bijay Singh and Satwant Kaur. One can also look into his historical collections with books like Sri Guru Nanak Chamatkar and Sri Asht Guroo Chamatkar etc. His later contributions do not need any introduction as he wrote several books on Gurbani, the lives of the Sikh Gurus and other religious figures. He made an impression with books like Subhagji da Sudhar Hathin Baba Naudh Singh, popularly known as Baba Naudh Singh. His short poems include books like Dil Tarang (1920), Tarel Tupke (1921), Lahiran de Har (1921), Matak Hulare (1922), Bijlian de Har (1927) and Mere Sayian Jio (1953). This then showed the way and led to the emergence of Punjabi poetry. His creative work and poetry made him so popular that he was declared as Bhai, the brother of the Sikh order, very early in his career for his true contribution in spreading Sikhism.