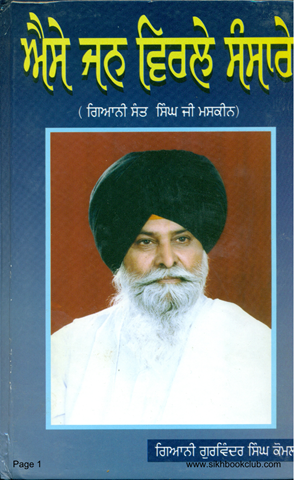 Aise Jan Virle Sansaar
Book ID : 1892
Language : Punjabi
Total Download : 343
Share this Book.....
About Book
---
Aise Jan Virle Sansare was written by Gaini Gurwinder Singh Komal in 2006. This book is about Bhai Maskeen Ji and author dedicated this book in the loving memory of respected Bhai Maskeen making the readers aware of his life and dedicated work in order to spread the message of Sikhism. Bhai Gurwinder Singh was totally inspired by Bhai Maskeen Ji. Bhai Maskeen Ji was honored by the Sikh community with the rare title of "Panth Ratan" for his service to mankind.
Giani Sant Maskeen Singh Ji spread the message of the holy "Guru Granth Sahib" in different countries around the world, like the USA, UK, Canada, the Middle East, Thailand and Singapore. His followers included not only Sikhs, but many other people of other castes also. Bhai Sahib was very fluent in all languages like Hindi, English, Punjabi, Urdu and Persian. Though there are less resources of Bhai Makeen Ji's early part of his life but to add some- Bhai Maskeen Ji would walk long distances to reach various places across India to spread the message of Sikhism. He had always stayed away from politics and dedicated all his life in spreading the message of Guru Nanak. He was married to Bibi Sunder Kaur in 1958 in his permanent home Alwar.
Bhai Maskeen Ji was a very simple person, he wears a black turban and white dress and looks very smart. He established a meditation center in his home town of Alwar in Rajasthan, (India) where a function is held every year on the festival of "Hollah Mohallah", which is attended by many scholars, preachers and learned people of the Sikh Community. He authored a number of books on various religious scriptures. Gayani Maskeen breathed his last in Ethwa in Uttar Pardesh. He was presented with "Bhai Gurdas Ji" award from Sromani Gurdwara Parbandk Committee. This and many such facts about Bhai Maskeen has been elaborated in details. Readers are therefore encouraged to read Aise Jaan Virle Sansare to know more about Sant Singh Maskeen Ji.